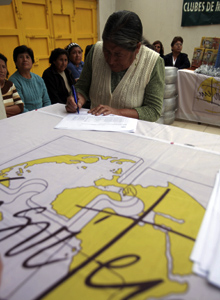 Openness and efficiency
Cesvitem joined the List of Sponsorship Organisations established by the agency for not-for-profit organisations, in June 2010 after adhering to the Guidelines for Sponsorship established by the same agency, which is the most important agency in Italy for the control and promotion of not-for-profit organisations. The guidelines, motivated by constitutional values and international law on the protection of childhood, aim to promote openness, effectiveness and efficiency in the operation of organisations in the sector, a perspective that highlights themes of good communication and co-operation.
Furthermore, in accordance with the Charter of Principles of Sponsorship and the Charter of Quality Criteria of Sponsorship, 2 codes of self-regulation devised by the sector's associations, Cesvitem has, since 2000, committed itself to using 80% of its funds for project ventures. Therefore only 20% is retained in Italy for management expenses (promotion and awareness campaigns, printing and sending the quarterly magazine Il Girotondo, secretarial expenses, budget certification, administration and postal, banking and telephone costs). In certain instances a portion of the funds (up to a maximum of 5%) intended for project activities can be used for community development projects.
Donations do not go directly to the children and their families, but are collected together and sent monthly to local project co-ordinators who use the money to carry out planned activities. In this way, as well as being sure that the money collected is used correctly, other children who are not officially sponsored can also be involved and benefit from the scheme.
With the intention of making the association's actions as transparent as possible, project updates and news, as well as budget information, are published in the association's magazine Il Girotondo, sent quarterly to all subscribers, and also on the website: www.cesvitem.org.
This English translation has been possible thanks to the project Free translation of websites
for NGOs and non-profit-making organisations. A project managed by Mondo Services and the translator Lucy Bond