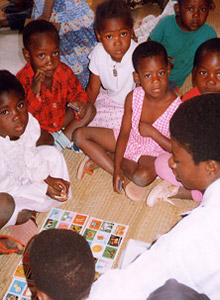 Beginnings and Activities
Launched in 1994 by the Mozambiquan non-governmental organization Kulima, Ntwanano ("understanding" in Changana, one of the dialects spoken in Mozambique) is a long-distance support project directed towards children who live in some of the peripheral quarters of Maputo and Matola, enormous shanty towns with severe social problems, made worse by the scarcity of essential services.
The objectives of the project, which Cesvitem has been part of since 1999, are to promote primary school education (enrolment, provision of uniform and study materials, revision courses) and complementary training and recreational activities (arts and crafts workshops, courses in theatre and dance, group sporting activities), provision of birth registration, distribution of clothing and guaranteeing healthcare (visits for medical check-ups, distribution of pre-treated mosquito nets and medicines not provided by the healthcare system, tests and specialist consultations, courses in hygiene and sickness prevention).
The management of project activities is carried out by a local staff made up of social workers, lecturers and healthcare personnel.