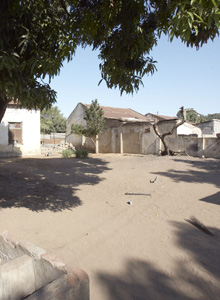 Project
In November 2006 Cesvitem launched the long-distance support project Kukula in Mozambique, with the aim of encouraging the fuller development of children and young people up to the age of 20 years living in Xipamanine, a residential area on the outskirts of the capital Maputo.
At present, Kukula is hosted temporarily in premises provided by the barrio administration. Nevertheless, in order to develop the activities it is necessary to find more adequate accommodation for reasons both of ambience and logistics. Amongst other things, in Xipamanine there is no place where young people can get together for recreation and cultural activities. This gave birth to the idea of a multi-purpose building which would serve both as a base for Kukula and as a community centre for people living in the barrio; a place where they could deliver educational services (library, private tuition, literacy classes), training (workshops), health services (doctor's surgery and pharmacy, health information and awareness), and social activities for the whole community.
With this in mind, Cesvitem in Mozambique selected a site of 704 square metres on the border of the Xipamanine and Chamanculo areas. Already on site were some ruined buildings which will be demolished before building the community centre from scratch.
The new structure will have an overall area of 525 square metres and will be in three blocks. In the first will be a reception area, a waiting room, a consulting room and pharmacy, two offices, bathrooms, a small shop, a kitchen and dining-room. The second block will comprise two multi-purpose classrooms and bathrooms. Finally, the third block will contain a large multi-purpose hall and a canopied roof space. Work in the first year will focus on building the second block, giving priority to making the two multi-purpose classrooms available for activities as soon as possible.