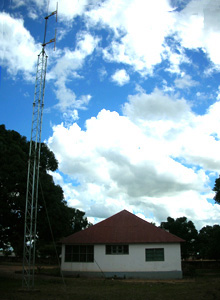 Project
Since 2007 Watana, the Mozambiquan non-governmental organization, has been managing the Monapo Community Multi-Media Centre (CMC). The endeavour, brought to fruition thanks to financing by UNESCO and Co-Operation Switzerland, revolves around Radio Monapo, the community radio station which every day broadcasts 12 hours of programmes in Portuguese and Macuan, the local language. The transmissions go out 7 days a week with a broadcasting radius of about 70 kilometres. Since 2007 the microphones have been manned gratis by 29 volunteers between the ages of 23 and 38 years, all living in the Monapo area. In addition to broadcasting, CMC also has a computer room in which IT courses are held and in which, to-date, 74 people have been trained. The income from the courses, from a photocopying service and from radio advertizing is enough to cover only lighting and telephone costs as well as providing payment for a night watchman.
CMC is based in an old building provided by the district administrative authority. However, the structure is infested with termites and there is a constant danger of collapse and damage to equipment. Because of this Watana has planned the building of a new base, seizing the chance to develop the Centre by adding a stationery shop and a bar, with a view to making it a more congenial place to meet and exchange news. In addition, the income from these enterprises will make possible the payment of a small stipend to the radio personnel thus creating new opportunities for employment.
The new CMC will be built on a site - already selected - of about 1,600 square metres, on which there will be three structures: a radio area (4 rooms, 105 square metres in total), a computer area (3 rooms totalling 68 square metres), and a recreation area (4 rooms covering 45 square metres). The radio station plans also provide for a recording studio, fully equipped with mixer, DVD and cassette players, and two microphones. The volunteer journalists will have a motor scooter and three bicycles available and will take part in ad hoc training courses on all technical and journalistic aspects of running a radio station. The computer room will be equipped with 10 internet connection points (desks, chairs, PCs, software, a printer, 5 toner cartridges, a video projector, 50 felt-tip pens and 100 CDs). In the recreation area there will be a fully provisioned bar with the customary fittings (furniture, domestic appliances, tableware, cutlery and various other items), TV, radio, CD player and table football. To run the bar there will be 5 part-time personnel (a manager, two cooks and two waiters). The photocopying service - already in place - will be enhanced with the creation of a small stationery shop looked after by a full-time manager. The project will last for 18 months.