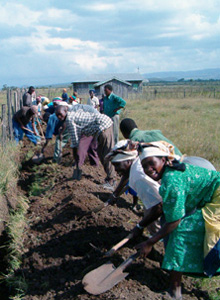 The objective of self-development
We are convinced that there will be no real social justice without development, so Cesvitem commits itself to solidarity with the people of the Southern world and to the conception, promotion and completion of international co-operation projects.
To promote self-development in the Southern world we collaborate, both in the project planning and implementation phases, with local not-for-profit organizations, both lay and religious. We use a model of co-operation which shares principles, strategies and responsibilities. Projects sponsored by Cesvitem must respond to real needs identified by local people themselves through their representatives. Projects must have the approval of the authorities concerned and be integrated in local development plans where these exist.
Even though it has acquired considerable experience in different spheres of activity over the years, Cesvitem's work – in line with its core beliefs - has been particularly focused on promoting the right to education. Education is the first step towards ensuring the rights and dignity of each and every person and it lays the foundation for the building of a better and, above all else, a more just world.