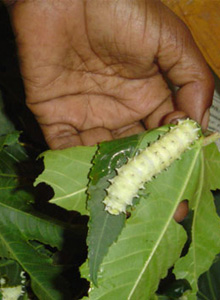 Project
Kwetu Home of Peace (kwetu in Swahili means "our home") is a rehabilitation centre for homeless boys set up in 1993 in Nairobi South C, and it is in a position to accommodate 130 boys between the ages of 8 and 14. Currently run by the Assumption Sisters of Eldoret, it consists of a drop-in centre that identifies suitable boys from the streets and establishes contact with them, and a Main Centre where the children attend school or specific vocational training courses, with the guarantee of food, lodging and health care. In response to the growing demand for intervention, Kwetu Home of Peace (KHP) is proceeding with the construction of a new site in the area of Ruai, 15 km from Nairobi, where an education centre will be set up, consisting of a nursery, a primary school and a vocational training centre.
This is the setting for our current project of sericulture (the cultivation of silkworms) and the building of 2 greenhouses for growing vegetables. Such activities will both allow the young residents to benefit from new educational opportunities, and will also increase the resources available to KHP, reducing their dependency on external donations. Specifically, this project will benefit 60 boys each year who are involved in the rehabilitation programme or who have already been placed with a family.
The sericulture project, directed by an expert in silkworm cultivation, intends to see the planting of 7,200 mulberry trees on 1.2 hectares of land, the leaves of which will allow the breeding of 120 thousand silkworms. The cultivation will take place inside 2 buildings, each with an area of 27 square metres. In order to maintain optimum levels of temperature and humidity the buildings will be constructed from traditional materials (earth and straw), thus ensuring the best conditions for the silkworms to spin good quality cocoons quickly. The retail of the crop has been secured by a collaboration with the government agency ICIPE that has committed itself to purchasing all the cocoons produced.
The greenhouse cultivation project, co-ordinated by an agricultural expert, expects to see the purchase and installation of two greenhouses, each with an area of 120 square metres, and each equipped with a 600 litre water tank and a drip irrigation system. One greenhouse will be used for tomatoes and the other for red peppers - two vegetables that are in high demand in the local market. It is expected that each greenhouse will hold 600 plants, making an estimated daily production rate of 5 boxes of tomatoes and 10kg of peppers. The vegetables will be used to cover the monthly requirements of the centre's canteen, whilst the surplus will be able to be sold at local markets.
This English translation has been possible thanks to the project Free translation of websites
for NGOs and non-profit-making organisations. A project managed by Mondo Services and the translator Lucy Bond