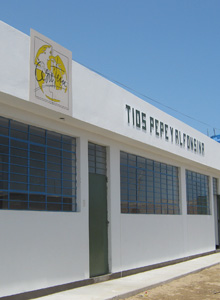 Project
In 2007 Cesvitem sponsored the building of a crèche attached to the Madres Estrellita de los Suaces club in the Huanchaco district, financing the first year of activity. Based on this experience a similar project was planned in collaboration with the 41 members of the Victor Raúl Haya de la Torre club in the Moche district. In Sector C of the district, where the Victor Raúl is located, there are 7 nurseries. However, these are open only to children of 3 years and upwards. In the same area there are also 8 Wawa Wasi ("baby house" in the Quechuan language) but these can accept a maximum of only 64 children up to 4 years-of-age.
The project will be carried out on a site of 282 square metres made available by the club. A one-floor building will be put up comprising the crèche (119 square metres with a multi-purpose main room, kitchen and toilets) and a room of 88 square metres for educational, recreational, health and dining activities, as planned by the Pininos Project. Both spaces will be appropriately furnished and equipped. The crèche will have everything needed to provide for the care and educational activities of 24 infants, while the Pininos room will have a table and 6 benches in addition to the furnishings already provided by the club. In the crèche a psychologist will select, from among the club members, 4 mothers who will be given adequate training and who will form a team of 3 care assistants and a cook to work alongside the nursery manager.
The financial plan for the first year envisages the hiring of health personnel, including a doctor, who will provide 2 paediatric check-ups and carry out programmes covering hygiene and vaccinations. A nutritionist will plan the menus. The project will last for 18 months at the end of which the building will belong to the club, which is committed to continuing the programmes.