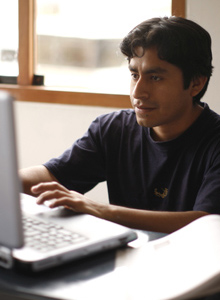 Project
Since 2003, Cesvitem has been furthering its Becas de Estudio sponsorship programme on the outskirts of Trujillo, the third biggest city in Peru, where it has been supporting the secondary level studies of hundreds of young people. The students benefit from having all the costs associated with their schooling covered, as well as those for extra curricular activities that support their education. Included in the plans for this area, near the head office of Cesvitem in Trujillo, is a permanent computer centre (CIP).
Most of the schools in districts on the city outskirts are lacking in computer equipment. This presents a disadvantage in terms of education for the students that attend them, some of which are beneficiaries of the Becas project. In order to familiarise themselves with computers or to carry out research for school the children are forced to rely on so-called "public internet booths". The use of these internet access points, obviously at a fee, presents several disadvantages: from the lack of equipment such as printers and scanners to the absence of staff to teach the users the basics of computing and using the internet.
The new computer centre will be located in a 40 square metre room on the second floor of the Cesvitem office, and will be improved through paintwork and installation of lights. In addition to 8 PCs (4 desktops and 4 laptops) and a multifunctional printer (with photocopier, scanner and fax), 8 tables, 16 seats, a blackboard and a bookcase will be purchased. Furthermore, there will be an annual subscription to the internet, including 4 USB keys for wireless laptop internet access.
With the collaboration of a qualified teacher, basic and advanced level computer courses will be taught nearby. These will be available to a maximum of 16 students per time (2 students per computer) so as to ensure a high quality of teaching. It is expected that at least 29 courses will run each year, making a total of 580 hours of teaching. To encourage students who live further away from the centre to get involved, the project will also offer a mobile service, with a travelling teacher. These courses (4 lessons of 2 hours) will be taught to small groups of students (maximum of 8, that is 2 per laptop) and will take place near private residences or rooms made available by "clubes de madres" (mothers groups) or district schools.
When the centre is not being used for teaching, students will be able to use the internet (to help with the completion of research and dissertations), or type and print documents required for their studies.
This English translation has been possible thanks to the project Free translation of websites
for NGOs and non-profit-making organisations. A project managed by Mondo Services and the translator Lucy Bond